Planet earth has now reached a tipping point or more probably gone beyond this. A combination of human overpopulation, climate change and widescale pollution of the land, oceans and rivers in every corner of the world is leading to currently unprecedented levels of degradation of the natural environment.
This website aims to become a record of this destruction – in effect a research database of everything that is degrading our planet. It tracks articles in the media that reflect what is happening, ranging from plastic pollution, industrial agriculture, the latest developments regarding climate change, the current unsustainable use of water resources, as well as the individuals and organisations attempting to reverse this degradation, and provides useful links so that you can explore a topic of interest further.
***
Some editorial selections
Summary: 16,000 scientists sign dire warning to humanity over health of planet (11.2017)
Link: http://edition.cnn.com/2017/11/14/health/scientists-warn-humanity/index.html
Summary: Rate of Environmental Damage Increasing Across Planet but Still Time to Reverse Worst Impacts (05.2016)
The environmental change sweeping the world is occurring at a faster pace than previously thought, making it imperative that governments act now to reverse the damage being done to the planet, says the most authoritative study that United Nations Environmental Programme has ever published on the state of the global environment.
Under the title Global Environmental Outlook (GEO-6): Regional Assessments, six separate reports provide highly detailed examinations of the environmental issues affecting each of the world's six regions: the Pan-European region, North America, Asia and the Pacific, West Asia, Latin America and the Caribbean, and Africa.
Link: http://www.un.org/sustainabledevelopment/blog/2016/05/rate-of-environmental-damage-increasing-across-planet-but-still-time-to-reverse-worst-impacts/
*****************
Summary: The Paris Agreement dispute is a distraction. The real battle is playing out in the EPA (09.2017)
Link: https://theintercept.com/2017/09/20/paris-agreement-climate-change-trump-epa/
Summary: Al Gore's Stupendous Wealth Complicates His Climate Message. That Can Change. (08.2017)
Summary: CarbonBrief – Analysis: Why US carbon emissions have fallen 14% since 2005 (08.2017)
Before 2005, US carbon emissions were marching upwards year after year, with little sign of slowing down. After this point, they fell quickly, declining 14% from their peak by the end of 2016.
Summary: The science behind human-induced climate change
Dr. Tapio Schneider discusses the science behind human-induced climate change. He is a climate scientist and Professor of Environmental Science and Engineering at the California Institute of Technology.
Summary: Al Gore: 'The rich have subverted all reason' (07.2017)
Summary: How climate scepticism turned into something more dangerous (07.2017)
Link: https://www.theguardian.com/environment/2017/jul/13/environmental-defenders-being-killed-in-record-numbers-globally-new-research-reveals
***
Summary: BBC Future: 10 grand challenges we'll face by 2050 (07.2017)
Link: http://www.bbc.com/future/story/20170713-what-will-the-challenges-of-2050-be?ocid=ww.social.link.email
***
Summary: Neoliberalism has conned us into fighting climate change as individuals (07.2017)
Link: https://www.theguardian.com/environment/true-north/2017/jul/17/neoliberalism-has-conned-us-into-fighting-climate-change-as-individuals?CMP=share_btn_link
***
Summary: How G.O.P. Leaders Came to View Climate Change as Fake Science (06.2017)
Link: https://www.nytimes.com/2017/06/03/us/politics/republican-leaders-climate-change.html?mcubz=0
***
Summary: Asian nations make plastic oceans promise (06.2017)
Link: http://www.bbc.com/news/science-environment-40195664
***
Summary: BBC World Service: Is it time to ban the plastic bottle? (radio podcast) (07.2017)
Every single second, 20,000 single-use drinking bottles are sold around the world. That is more than a million pieces of non-biodegradable rubbish produced every minute. And as demand grows in developing economies, so will the mountains of waste, with much of it ending up in the ocean. We learn how the invention of the plastic bottle spawned an industry that has quickly got us hooked. We hear the consequences of our addiction from the man who has dedicated his life to The Great Pacific Garbage Patch. And, with one estimate that by 2050 there will be more plastic in our oceans than fish, we ask if we now need a radical solution. Is it time to ban the plastic bottle?
Link: http://www.bbc.co.uk/programmes/p058jgyr
***
Summary: Why the World Economy Has to Be Carbon Free by 2050 (03.2017)
STOCKHOLM — Global warming is a scientific fact as much as the hole in the ozone layer or Earth's orbit around the sun. Global temperature records have been broken three years running. Arctic Sea ice is declining rapidly. Sea levels are rising. For some societies, such as small island nations in the Pacific and Indian Oceans, environmental havoc is not a distant threat. It has arrived.
Link: https://www.nytimes.com/2017/03/23/opinion/why-the-world-economy-has-to-be-carbon-free-by-2050.html?_r=0
***
Summary: Four in 10 British children have never seen a hedgehog in the wild (11.2015)
Children are cut off from nature and are rarely allowed to experience the British Countryside, Sir David Attenborough and The Wildlife Trusts have warned
Link: http://www.telegraph.co.uk/news/science/science-news/11972487/Four-in-10-British-children-have-never-seen-a-hedgehog-in-the-wild.html
***
Summary: Gaia Hypothesis – James Lovelock  
James Ephraim Lovelock, is an independent scientist, environmentalist and futurist. He perfected the Electron Capture Detector which sought out poisons in the atmosphere and discovered CFCs puncturing the ozone layer, as well as pesticides. He is best known for proposing the Gaia hypothesis.
Link: Gaia Hypothesis – James Lovelock  (2007)
https://www.youtube.com/watch?v=GIFRg2skuDI
Link: BBC: Beautiful Minds – James Lovelock – The Gaia Hypothesis/Gaia Theory (2013)
https://www.youtube.com/watch?v=QqwZJDEZ9Ng
***
Summary: James Lovelock: Humans are too stupid to prevent climate change (03.2010)
Link: https://www.theguardian.com/science/2010/mar/29/james-lovelock-climate-change
***
Summary: We're all doomed! 40 years from global catastrophe – and there's nothing we can do about it, says climate change expert (03.2008)
Link: http://www.dailymail.co.uk/news/article-541748/Were-doomed-40-years-global-catastrophe–theres-NOTHING-says-climate-change-expert.html
***
Summary: Overpopulation facts – the problem no one will discuss: Alexandra Paul at TEDxTopanga  (01.2013)
Actress Alexandra Paul breaks the silence on one of the most taboo subjects of our time: human overpopulation and how to resolve the crisis that is adding 220,000 more people to the planet every day. She discusses the overpopulation problems of 7 billion humans multiplying at a rate of 1 billion more people every 12 years and offers a simple solution: Transform negative cultural attitudes about the Only Child, and celebrate the short and long term benefits of small families
Link: https://www.youtube.com/watch?v=fNxctzyNxC0
***
Summary: John Gray (a political philosopher): Only science can save us from climate catastrophe (01.2008)
With an increasing population, the earnest debate over the merit of biofuels and wind farms misses the point – it is the technologies we fear that will be our salvation
Link: https://www.theguardian.com/commentisfree/2008/jan/20/climatechange.carbonemissions
***
 What is environmental degradation?
Environmental degradation is the deterioration of the environment through depletion of resources such as air, water and soil, the destruction of ecosystems, habitat destruction, the extinction of wildlife and pollution. It is defined as any change or disturbance to the environment perceived to be deleterious or undesirable.
As indicated by the I=PAT equation, environmental impact (I) or degradation is caused by the combination of an already very large and increasing human population (P), continually increasing economic growth or per capita affluence (A), and the application of resource-depleting and polluting technology (T).
Environmental degradation is one of the ten threats officially cautioned by the High-level Panel on Threats, Challenges and Change of the United Nations. The United Nations International Strategy for Disaster Reduction defines environmental degradation as "the reduction of the capacity of the environment to meet social and ecological objectives, and needs". Environmental degradation is of many types. When natural habitats are destroyed or natural resources are depleted, the environment is degraded. Efforts to counteract this problem include environmental protection and environmental resources management.*                                            
********************
A selection of data, statistics and facts:
Top 3 global oil producers (Dec. 2016):
1. Russia: 10.49 million barrels/day
2. Saudi Arabia: 10.46 million barrels/day
3. United States of America: 8.8 million barrels/day
Link: https://www.bloomberg.com/news/articles/2017-02-20/russia-overtakes-saudi-arabia-as-world-s-largest-crude-producer
***
Top 4 countries in the world by population (2017)
China – 1,388,232,693
India – 1,342,512,706
USA – 326,474,013
Indonesia – 263,510,146
Link: http://www.worldometers.info/world-population/population-by-country/
***
Summary: Robert Mercer
Breitbart News and Cambridge Analytica are both funded by this key climate change denier. He also funds a climate change denial thinktank, the Heartland Institute
Link: https://www.theguardian.com/politics/2017/feb/26/robert-mercer-breitbart-war-on-media-steve-bannon-donald-trump-nigel-farage
***
Summary: The Koch BrotHighly wealthy and, in the main, highly secretive,  Charles and David Koch are both climate change deniers who covertly funded organisations like The Cato Institute to promulgate climate change scepticism. The banker John Allison is an appointee agreed by the Kochs as CEO of the The Cato Institute and very much reflects their viewpoint.
Link: http://www.newyorker.com/magazine/2010/08/30/covert-operations
***
Link: https://www.google.pl/url?sa=t&source=web&rct=j&url=https://www.newyorker.com/news/news-desk/the-kochs-v-cato-winners-and-losers/amp&ved=0ahUKEwigqvil7JnWAhVJmbQKHaJ3DgEQFgh6MBE&usg=AFQjCNFenfVvRCV5xxzpyuyc5V29MhIVWQ&ampcf=1
***
Summary: Greenpeace USA – Koch Industries: Secretly Funding the Climate Denial Machine
The Koch Brothers have sent at least $100,343,292 directly to 84 groups denying climate change science since 1997.
Link: http://www.greenpeace.org/usa/global-warming/climate-deniers/koch-industries/
***
Source: Dirty Secrets of Electric Cars – example of video sponsored by the global-warming-denying Koch Brothers
Link: https://www.youtube.com/watch?v=H_WscmJSB2c
***
Summary: Robert E. Murray
Chairman and CEO of America's biggest privately owned coal company. Murray Energy Corp. and a very public climate sceptic.
Summary: Murray Energy CEO claims global warming is a hoax, says 4,000 scientists tell him so (02.2017)
Link: https://www.cnbc.com/2017/02/17/murray-energy-ceo-claims-global-warming-is-a-hoax.html
Source: Coal Boss Robert Murray Is Suing John Oliver After Being Mocked on Last Week Tonight (06.2017)
Link: http://time.com/4829720/john-oliver-lawsuit-robert-murray-coal/
***
Source: Scott Pruitt's Crimes Against Nature (07.2017)
Trump's EPA chief is gutting the agency, defunding science and serving the fossil-fuel industry
Link: http://www.rollingstone.com/politics/features/scott-pruitt-is-gutting-the-epa-serving-fossil-fuel-industry-w494156
***
Source: NASA Study Shows Global Sea Ice Diminishing, Despite Antarctic Gains (02.2015)
Sea ice increases in Antarctica do not make up for the accelerated Arctic sea ice loss of the last decades, a new NASA study finds. As a whole, the planet has been shedding sea ice at an average annual rate of 13,500 square miles (35,000 square kilometers) since 1979, the equivalent of losing an area of sea ice larger than the state of Maryland every year.
Link: https://www.nasa.gov/content/goddard/nasa-study-shows-global-sea-ice-diminishing-despite-antarctic-gains
2015 IPCC Paris climate agreement
A list of the signatory countries is here: http://www.un.org/sustainabledevelopment/blog/2016/04/parisagreementsingatures/
Climate change, or global warming, refers to the damaging effect of gases, or emissions, released from industry, transportation, agriculture and other areas into the atmosphere.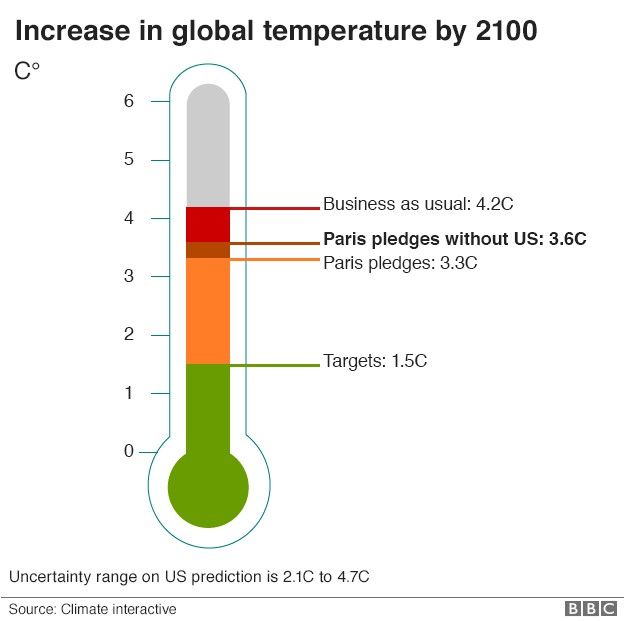 The Paris accord aims to limit the global rise in temperature attributed to emissions. Only Syria and Nicaragua did not sign up. Countries agreed to:
Keep global temperatures "well below" the level of 2C (3.6F) above pre-industrial times and "endeavour to limit" them even more, to 1.5C
Limit the amount of greenhouse gases emitted by human activity to the same levels that trees, soil and oceans can absorb naturally, beginning at some point between 2050 and 2100
Review each country's contribution to cutting emissions every five years so they scale up to the challenge
Enable rich countries to help poorer nations by providing "climate finance" to adapt to climate change and switch to renewable energy
Nasa's Goddard Institute for Space Studies says the world's average temperature has risen by about 0.8C since 1880, two-thirds of that since 1975.
US think tank Climate Interactive predicts that if all nations fully achieve their Paris pledges, the average global surface temperature rise by 2100 will be 3.3C, or 3.6C without the US.**
To view a record of extreme temperatures around the world:
http://www.mherrera.org/temp.htm
*Source: Wikipedia
**Source: BBC News – http://www.bbc.com/news/world-us-canada-40829987
© 2017. mankindsdegradationofplanetearth. All Rights Reserved